Conquer the streets of Seoul in Gibbs fashion
At such a young age, both Chi and Gabs Gibbs have conquered the fashion, makeup, and music industry. Now, the two sisters, along with their boyfriends Anton Cruz and Diego Herrera, are taking the streets of Seoul with Klook and the Korean Tourism Organization to discover the best the city has to offer this Autumn season. Check out what they got up to and read on to find out how you can get a holiday upgrade with Klook!
Before Your Trip
1. Stay connected with a 4G SIM Card
Get the most out of your vacation and grab a 4G SIM Card before you fly! Korea is known to have one of the fastest internet servers in the world, so you definitely rely on this to navigate your way around Seoul – and just like the Gibbs sisters – post you Instagram photos in real time!
2. Hit the ground running with an Airport Transfer
Waste no time and get to your hotel in no time with Klook's Airport Transfer. If you're travelling in a group just as Gabs and Chi did, then this would be a more cost-efficient option! Not only is it the most convenient option, but it also happens to be the most comfortable.
South Korea Highlights
1. Take a tour of Seoul with a local
What better way to learn more about Seoul than from a local? The great thing about this private tour is that you can completely customize it to your preference and even include some recommended stops from your KoreanBuddy!
With their boyfriends tagging along for the ride, Chi and Gabs' tour guide made sure there was something enjoyable for everybody – from the historical temples of Gyeongbokgung Palace to the cultural artifacts inside the National Folk Museum of Korea.
2. Shop 'til you drop at the streets of Seoul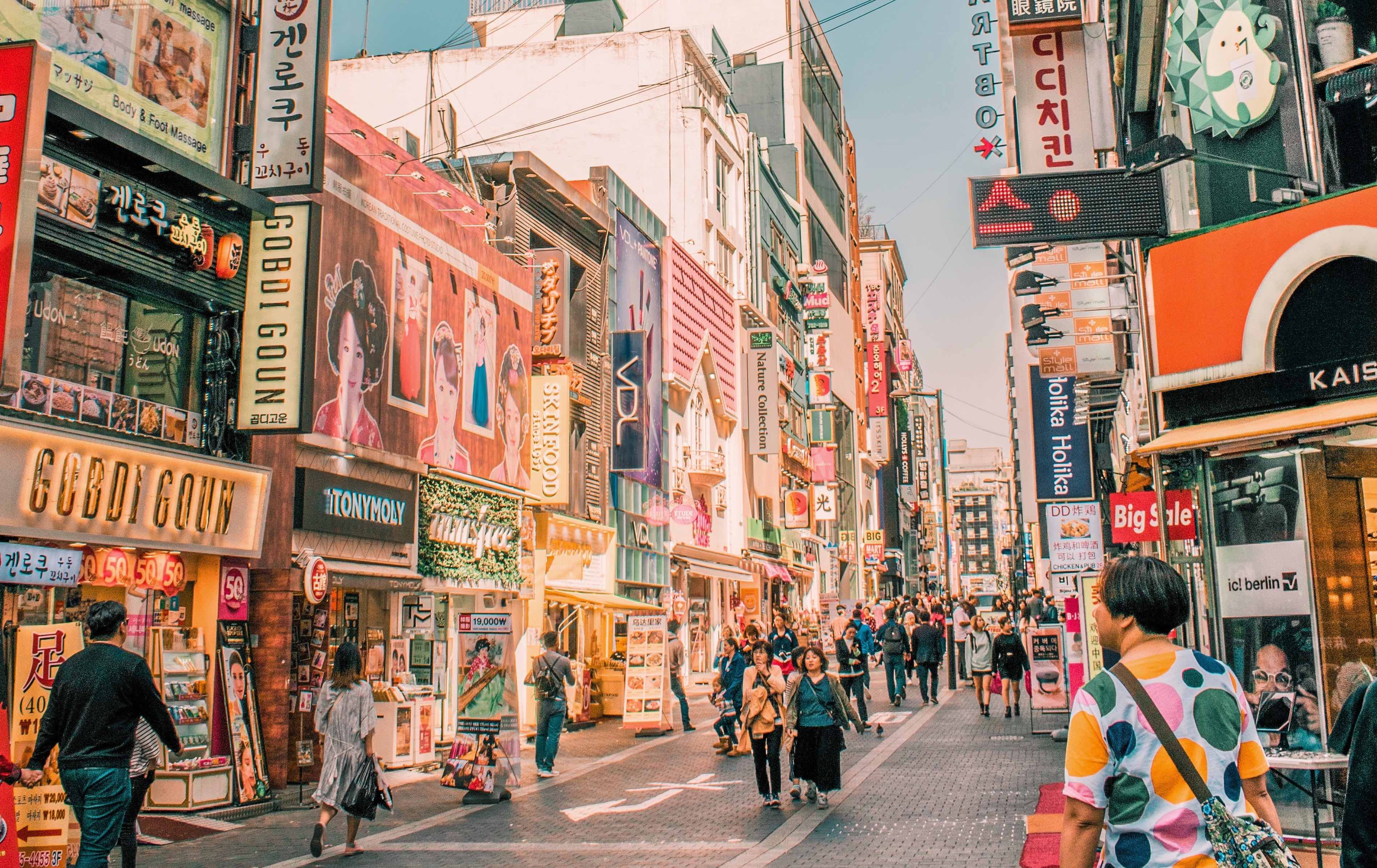 No trip to Seoul would be complete without a trip to the shop-lined streets of Myeongdong. With a business in both fashion and makeup, this was definitely one of the highlights for both Chi and Gabs. And the boys didn't miss out either – with a ton of streetwear fashion brands and street food to enjoy, Anton and Diego had quite the adventure as well!
3. Fall in love with Autumn at the Garden of Morning Calm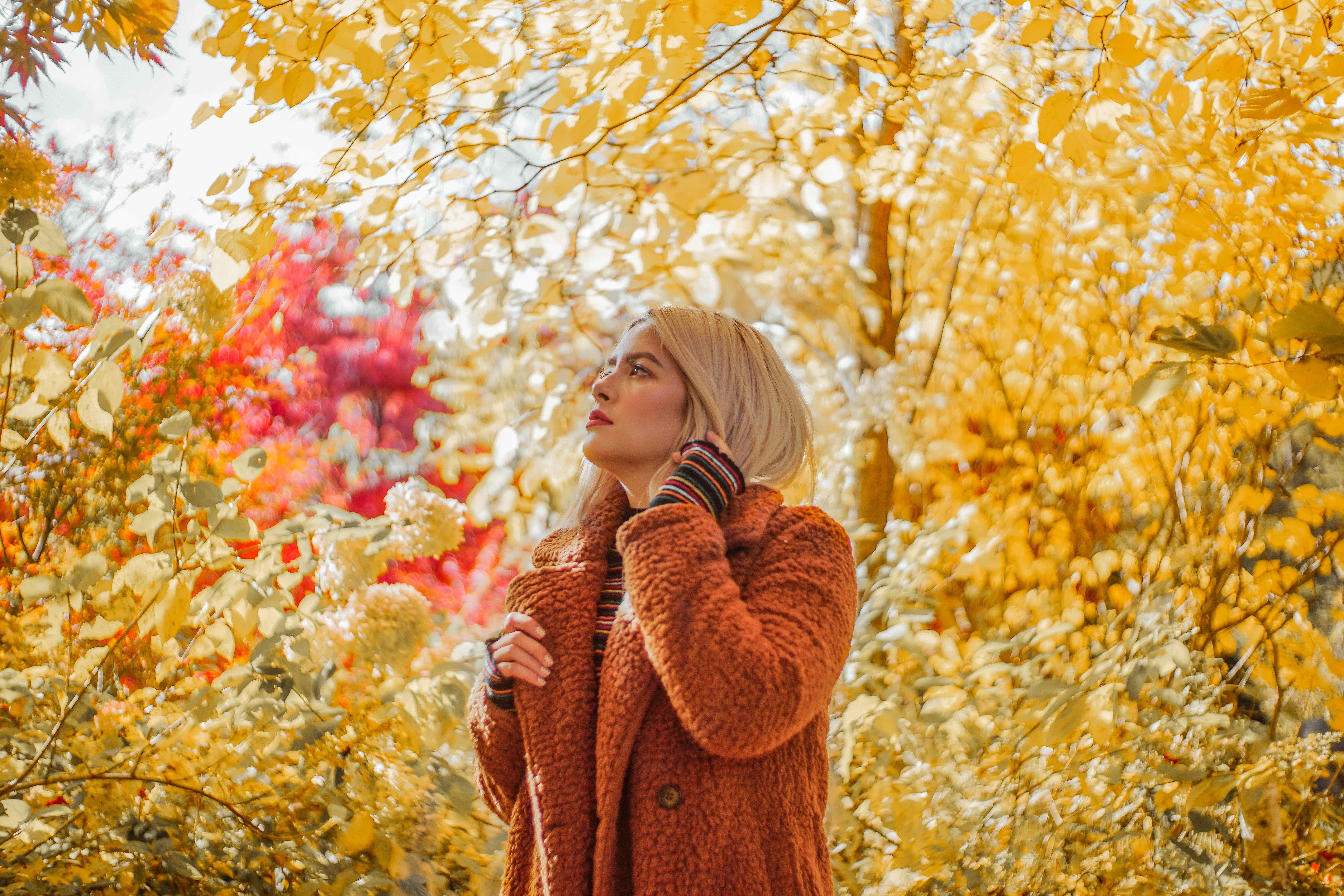 South Korea is undeniably beautiful during the fall season, and the best place to experience this is at Garden of Morning Calm. Take your time as you walk through the breathtaking yellow-orange gardens and feel free to take hundreds of photos to share on the 'gram!
On this tour, guests will also be taken to the picturesque Nami Island and Petite France, and just like Chi and Gabs, you can recreate your favorite scenes with your oppas from K-Dramas like My Love From The Star and Winter Sonata!
4. Discover local life at Jeonju Hanok Village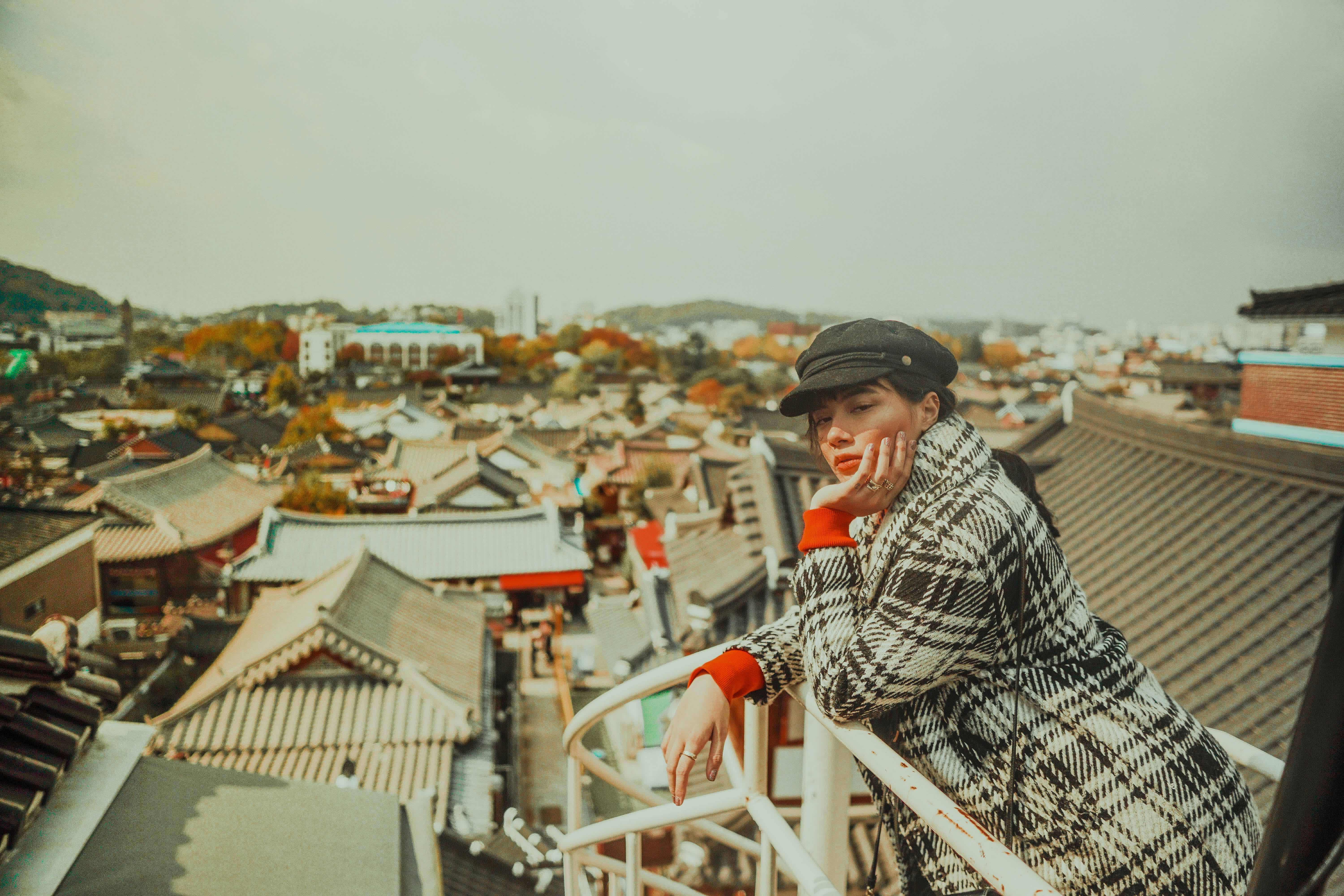 Take a quick break from the cityscapes of Seoul and get lost in a maze of traditional Korean homes at the Jeonju Hanok Village. Here you can discover more of Seoul's culture and history as you walk through the many boutiques and tea houses hidden in this side of Seoul. Apart from it being a great cultural experience, we can't deny that it happens to be a great photo spot as well!
5. Take a romantic stroll through the Naejangsan National Park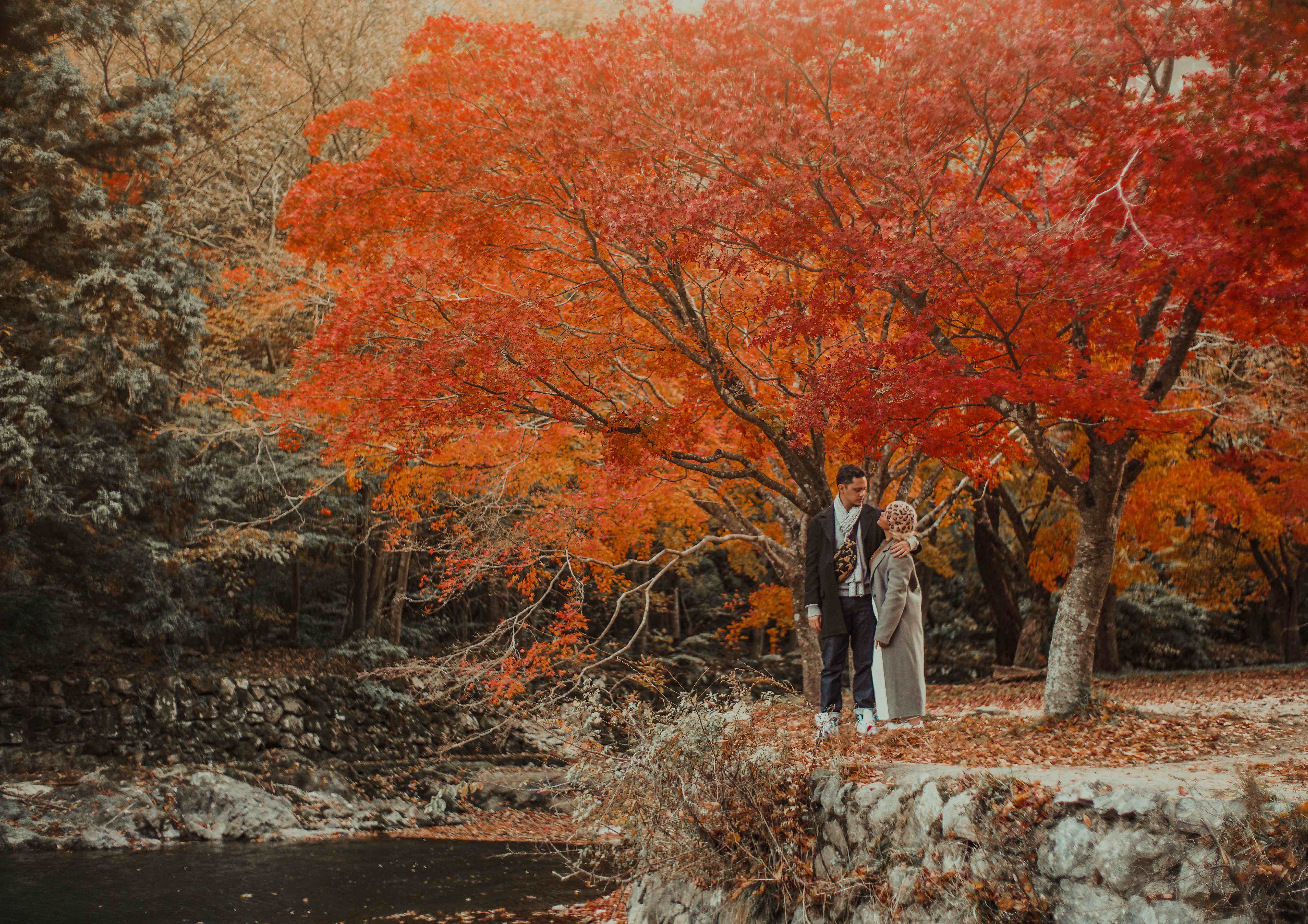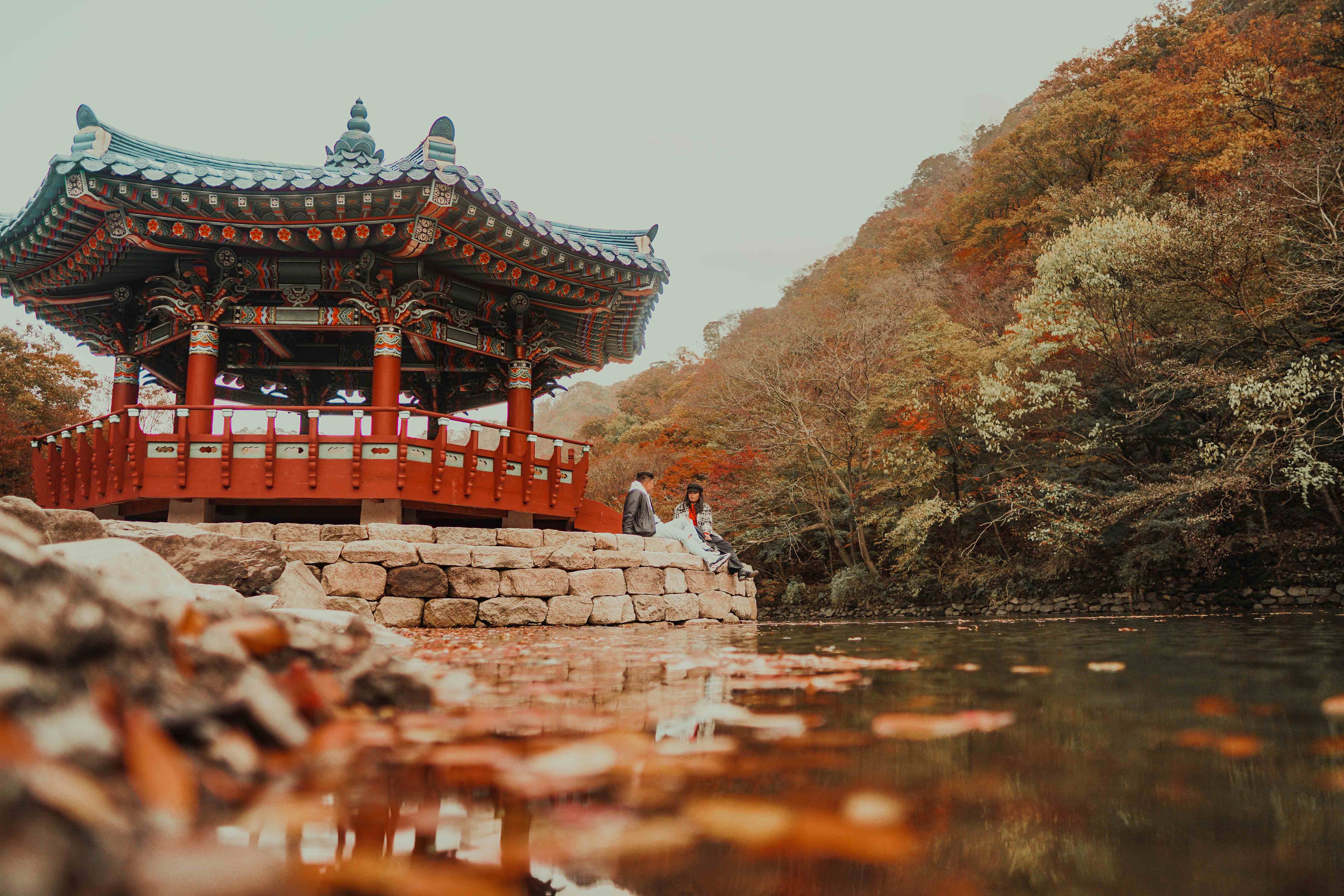 Although we can agree that Naejangsan National Park is beautiful year-round, we have to admit that it's exceptionally stunning during the autumn season. The park is a great place to take a breather from Seoul's chaotic scene, so grab your bae and travel to the countryside for a nice picnic by the colorful gardens!
6. Conquer your fears at Everland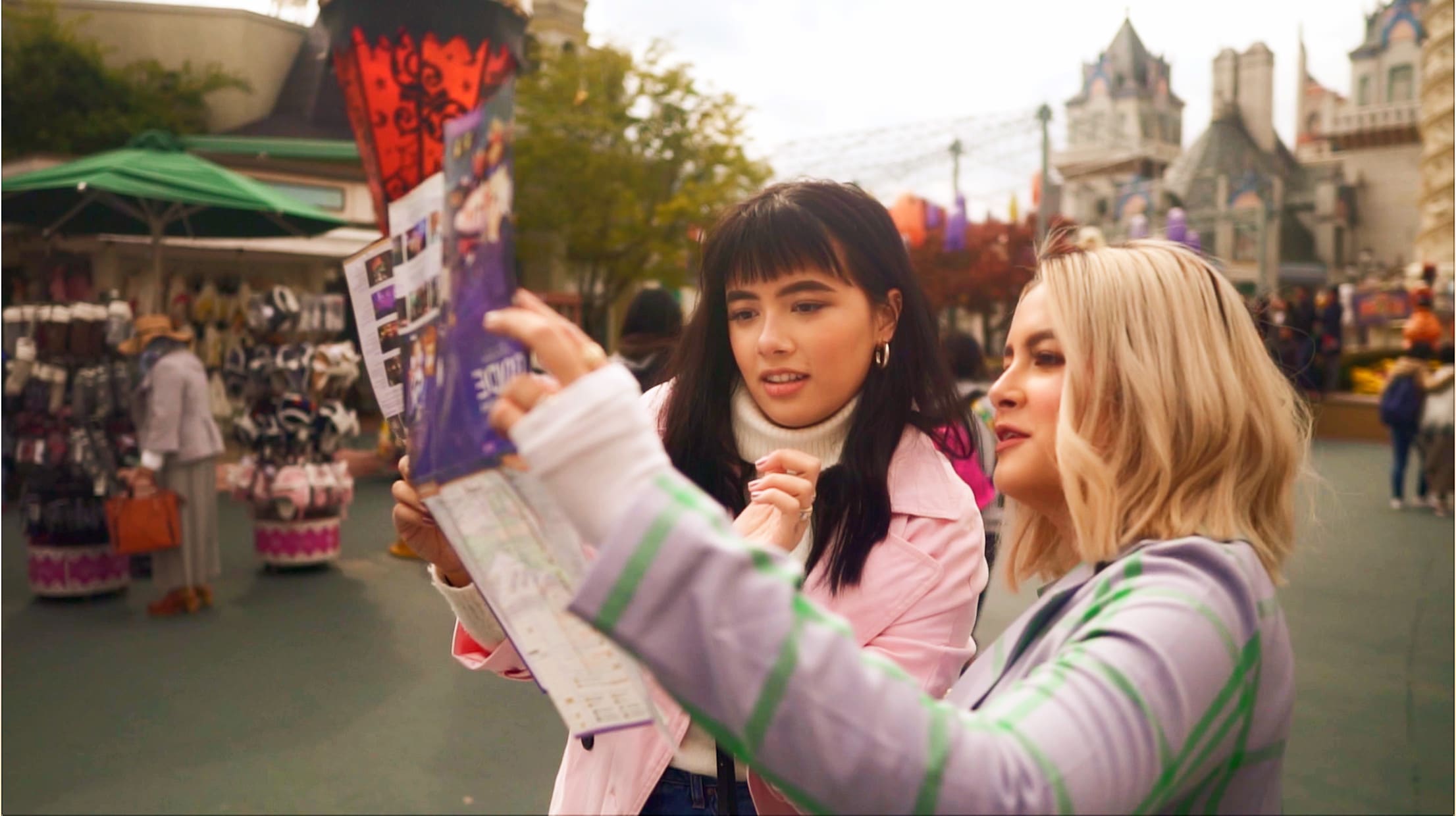 Follow in the footsteps of Chi and Gabs and take on the mighty rollercoasters of the Everland theme park! Not only is it known for its themed attractions, but Everland also boasts a colorful landscape thanks the the beautiful greenery that surrounds the park and as well as Zootopia, where you can interact with many safari animals.
If you're visiting during the fall season, make sure to the bundle up! It's sure to be chilly – especially once you're going full speed on the T Express! Maximize your trip our ultimate guide to Everland.
7. Get the full Korean experience in a traditional hanbok outfit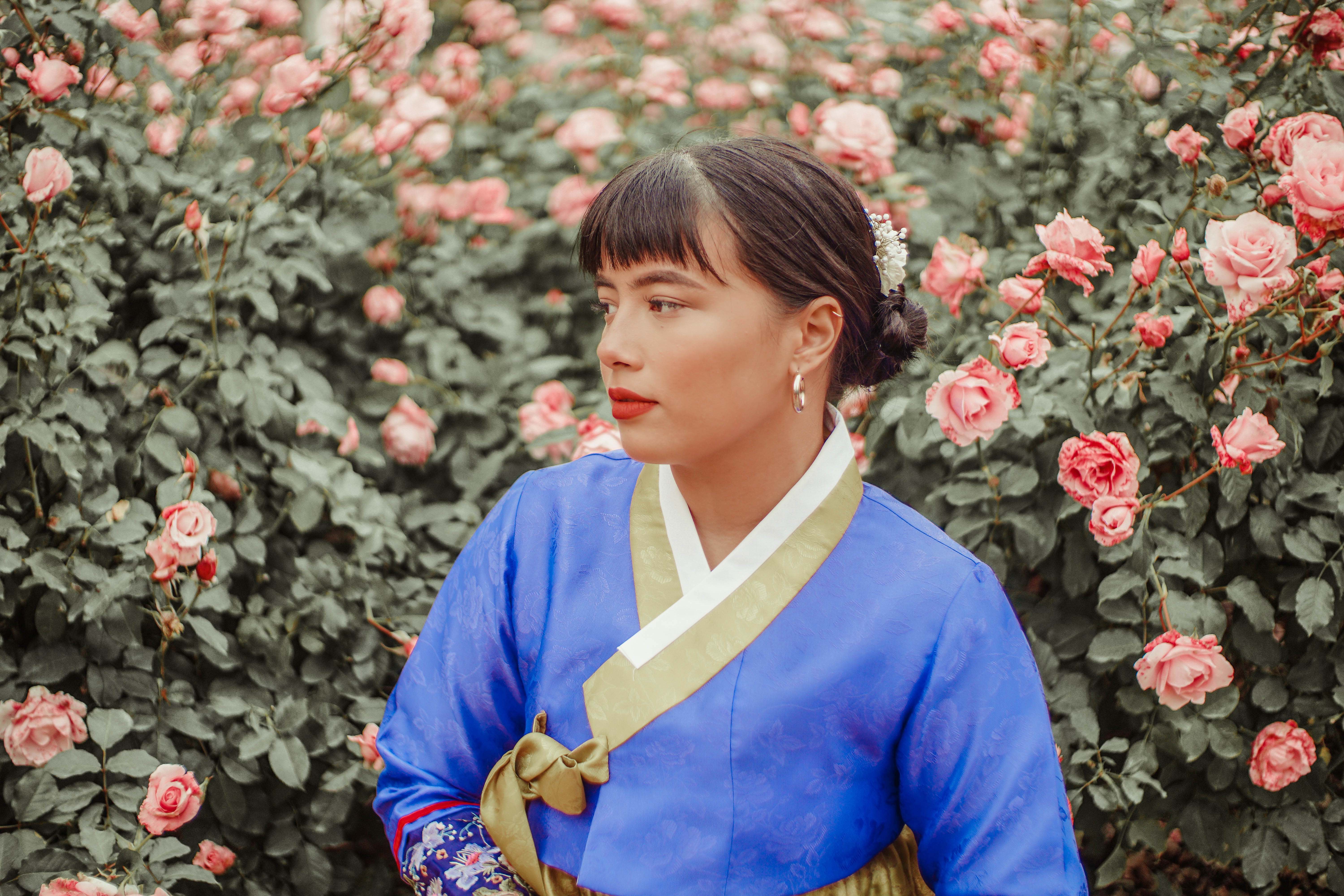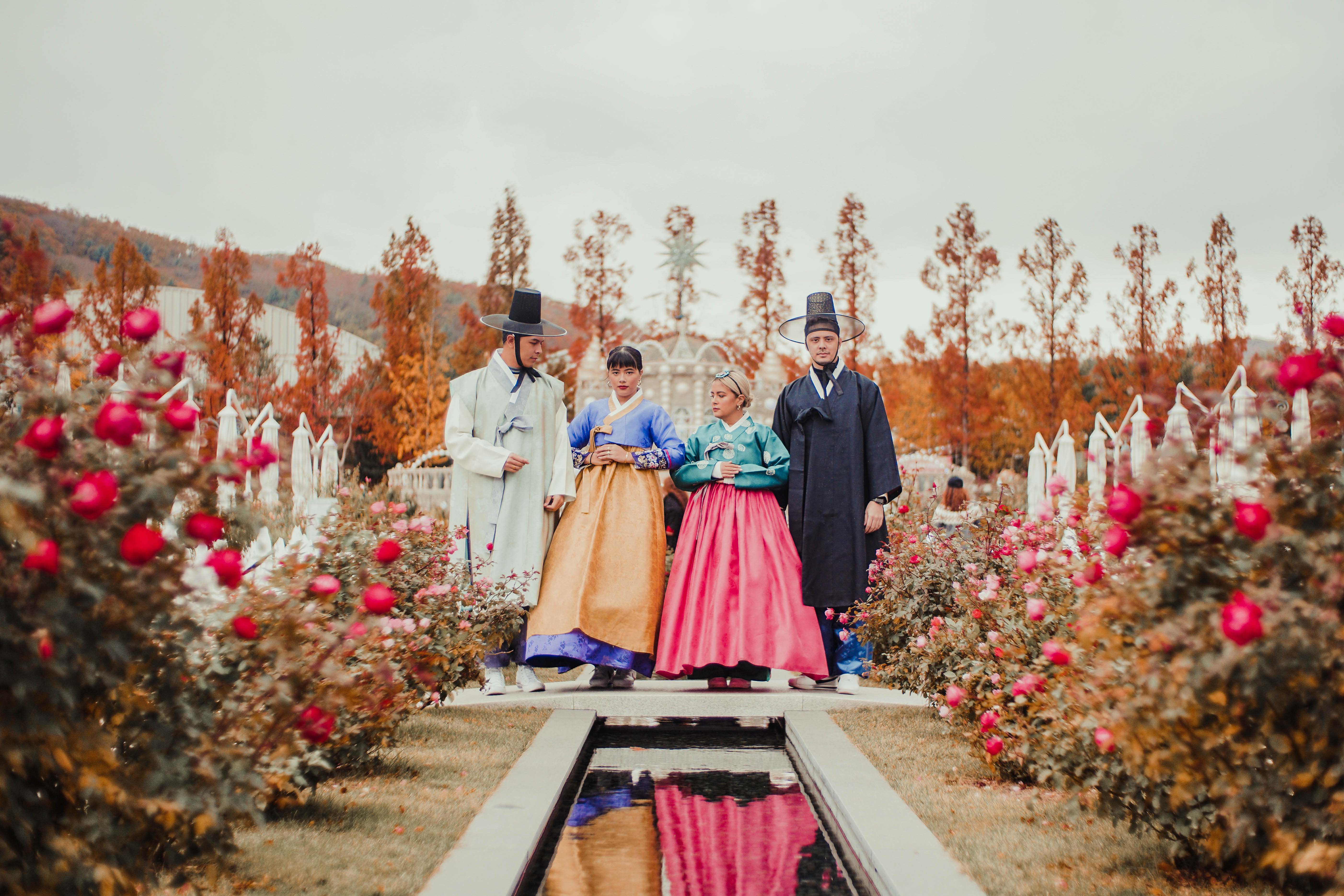 Not many people are aware of this, but Everland is a great spot for those traditional hanbok photos! Along with their boyfriends Anton and Diego, Chi and Gabs donned colorful hanboks to complement their surroundings. If you need to take a break from Everland's extreme rides, this is an enjoyable activity that'll surely look great on your Instagram feeds!
8. Experience Seoul through VR (Virtual Reality) at K-Style Hub!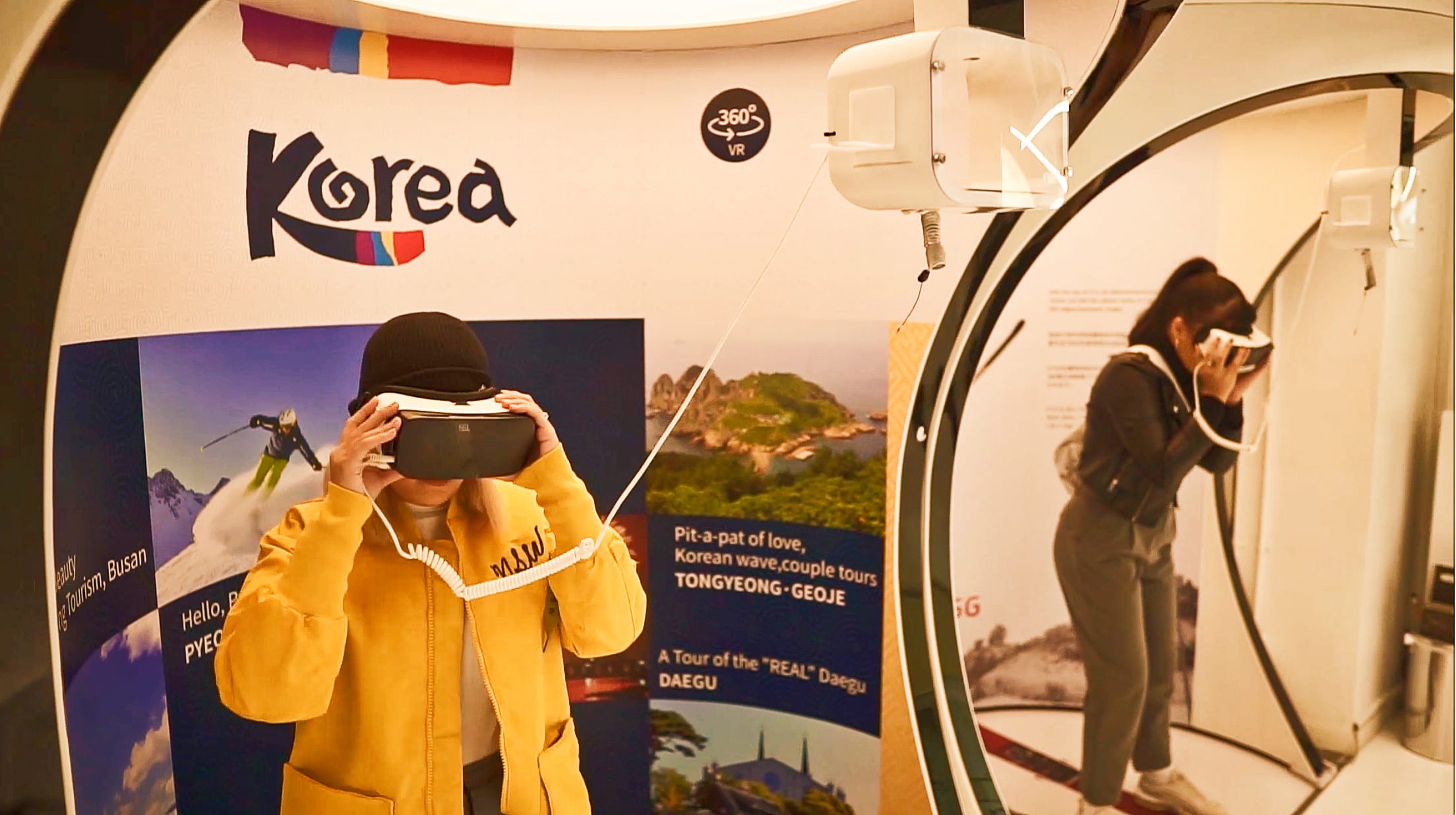 Missed out on some key attractions in Seoul? No problem! Head on over to K-Style Hub and try out their 360-VR Seoul experience and choose from over 40 attractions to visit! Chi and Gabs were even able to experience ski-jumping at the 2018 PyeongChang Winter Olympics through this VR game!
But that's not the only thing you can do at the K-Style Hub! Guests can also take photos with their favorite Hallyu stars, dress up in traditional hanboks, and even learn how to cook Korean food! With so much to do, you're bound to have a fun-filled day at this museum.
What to Eat
1. Myeongdong Street Food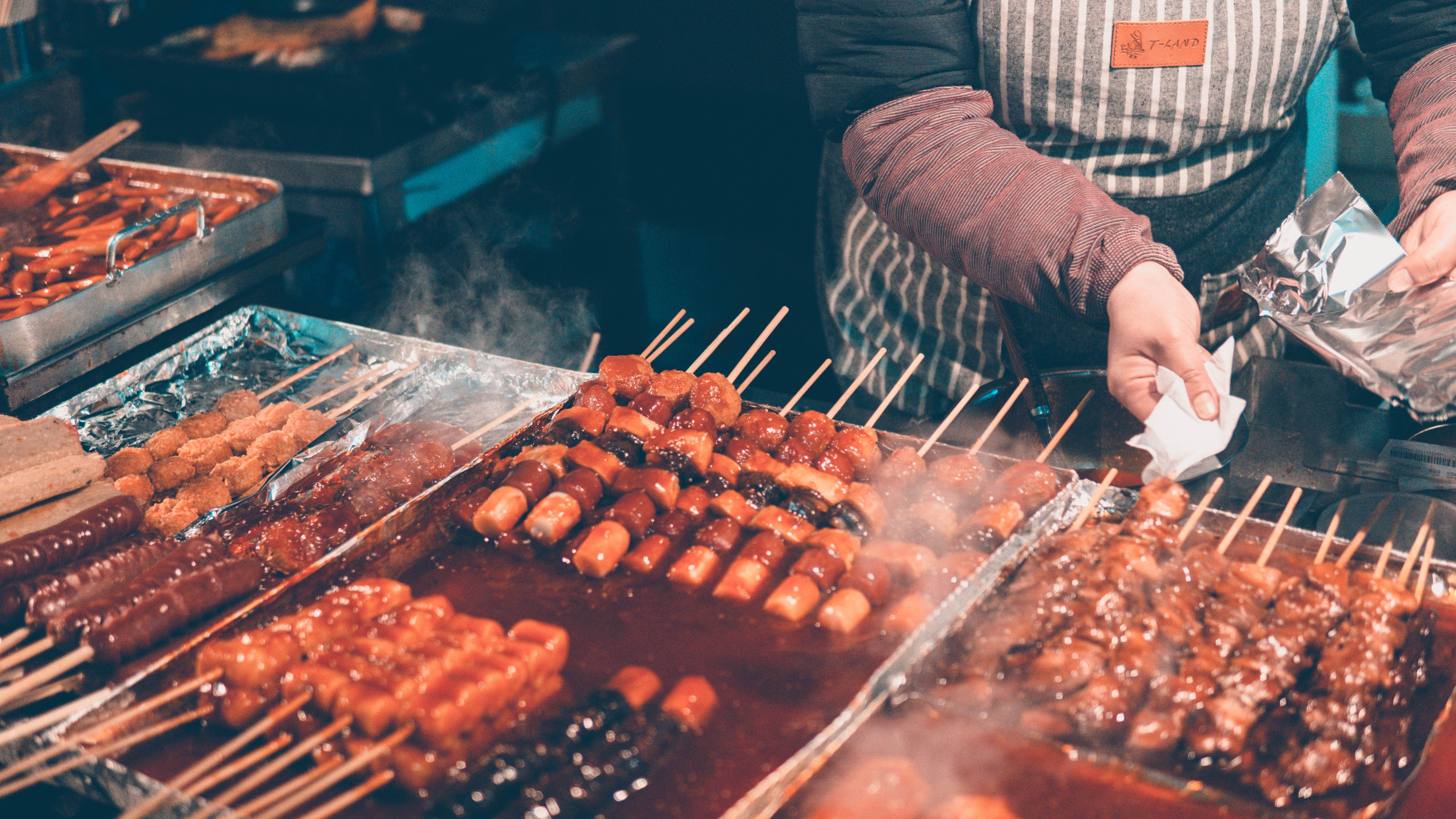 If there's one thing you need to try while you're in Korea – it's the street food! Famed for its interesting flavour and often spicy concoctions, the wide range of food you'll find here will be enough for a whole meal! Skip dinner if you please and dine by the endless food stalls of Myeongdong!
2. Korean Barbeque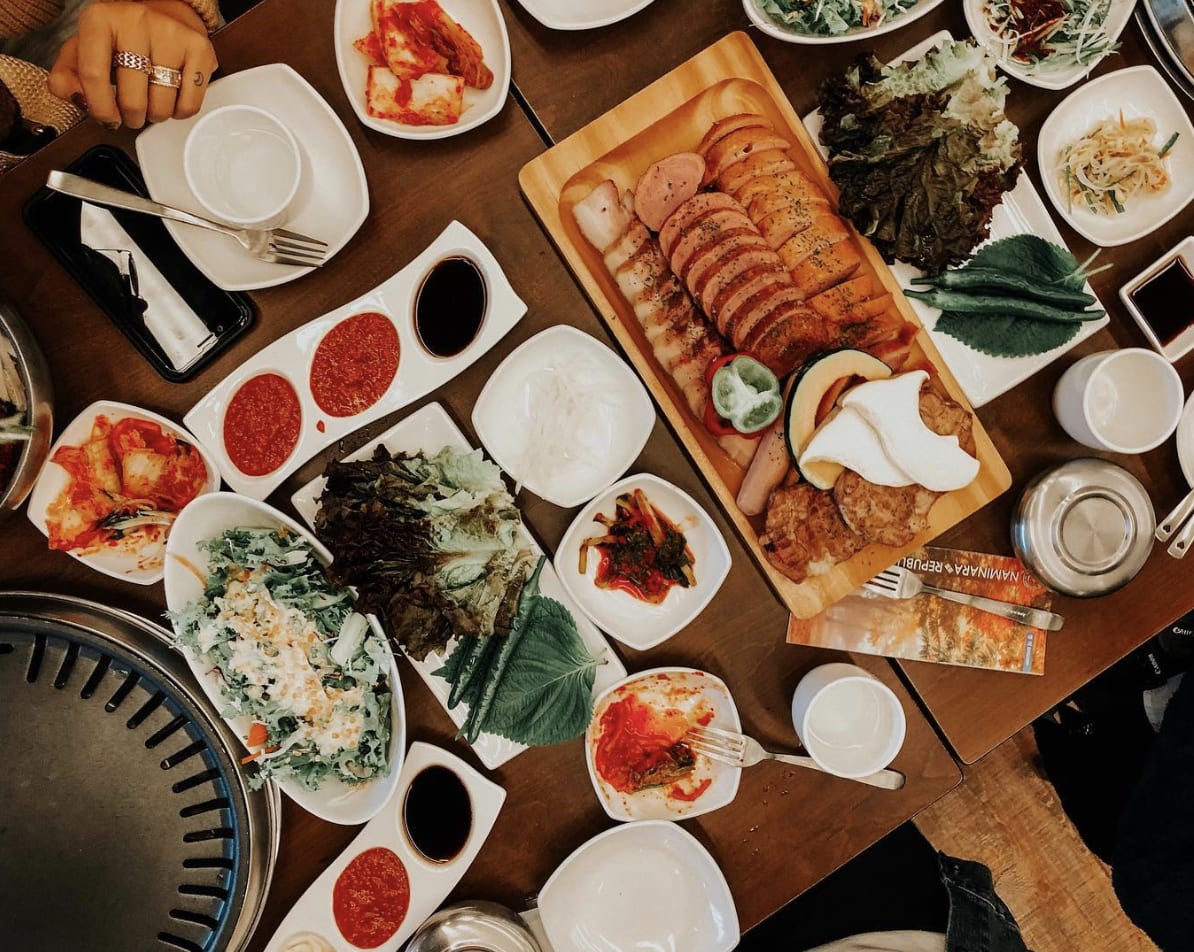 Most Korean BBQ restaurants in Korea have incredibly long lines – and for good reason! This DIY-styled dining experience is a popular trend in Korea featuring mouthwatering meats and (usually) unlimited side dishes. If you're dining as a group, this is best served with a couple bottles of Soju for an authentic Korean dining experience!
Get the most out of your trip to Seoul with KTO!
Headed to South Korea soon? Get the most out of your trip to Seoul and book yourself some awesome Klook activities that's sure to make your trip unforgettable! Check them out!