Nami Island, or Namiseom Island, is a half moon-shaped isle near Seoul. If you have heard or seen the famous Korean drama "Winter Sonata", you'll already be familiar with this romantic destination. Truly magical and unique, Nami Island even declared its cultural independence from the Republic of Korea and called itself the?Naminara Republic. One of the most special characteristics about this beautiful island is that it showcases a different, yet equally amazing, scenic experience each season, making it the perfect day trip from Seoul, any time of the year.?Here's what each season has to offer.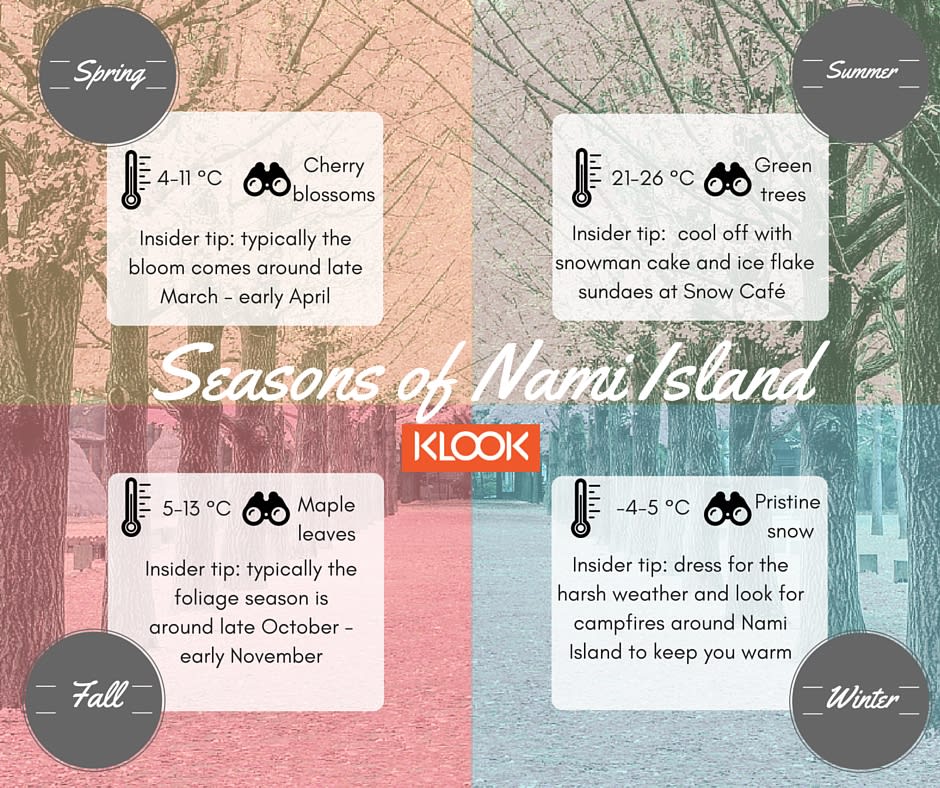 Nami Island Summer – Luscious greenery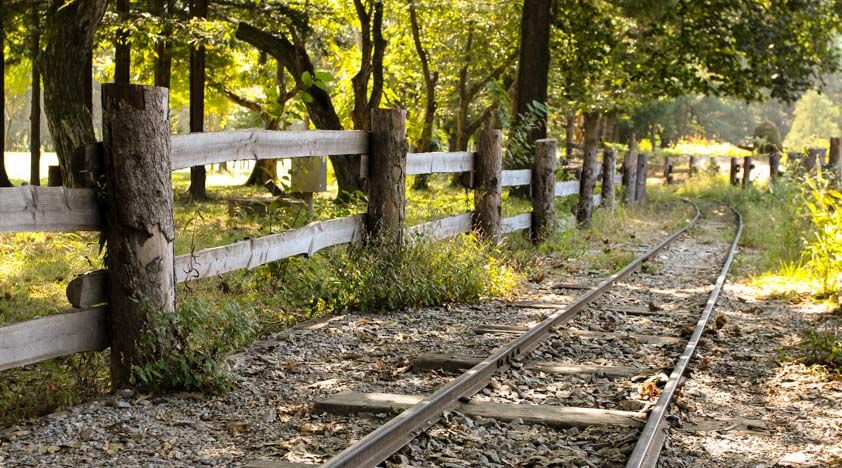 Average Temperature: 21-26°C
Must See: Nami Island is a popular summer vacation spot. During the summer season, Nami Island's trees are emerald green and perfect for shading. You can rent a bike on the island at the Bike Center besides the UNICEF Hall. Rental for single rider bike costs??3,000 per 30 minutes, double rider bike??6,000 and family-serve bike for??10,000. Biking is often the most beloved way to sightsee because you can tour the entire island in about an hour.
Photo Credit: Nami Island
What's On This Summer:?For a refreshing summer swim, you can jump into the?Water Garden Swimming Pool in Hotel Jeonggwanru. Open from July 8 to August 21, this swimming pool allows all visitors to simmer down in the blazing heat. The admission fee for the pool is ?7,000 for adults and ?4,000 for children. Don't forget to pack your proper swim attire, such as swimming suits and swimming caps, to enter the facility.
Alternatively, attend the?Traditional Korean Paper Exhibition from July 9 to August 2. This exhibit features works of leading Korean Hanji artist?Yang Sang Hoon. Visitors can admire?his Joomchi art, ?formed by pasting multiple thin paper layers together with water. You can even construct your very own?heart-shaped Joomchi love note for your loved ones!
Insider Tip:? To cool off, try out Nami Island's signature snowman cake and ice flake sundaes at Snow Café!
Nami Island Fall – Maple leaves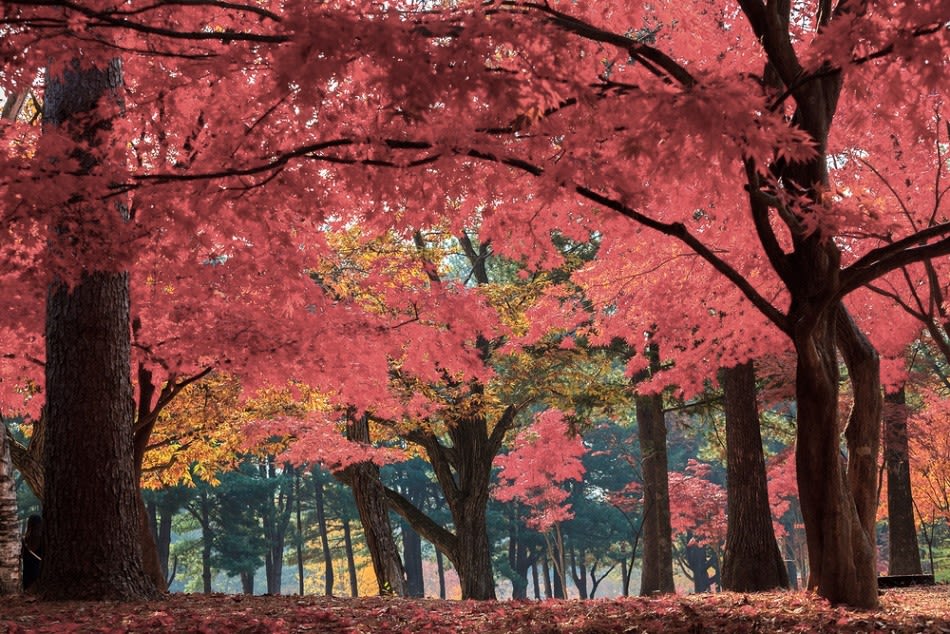 Average Temperature: 5-13°C
Must See: As a fall foliage destination, Nami Island will not disappoint. The autumn colors arrive at South Korea around late October to early November. The shades of red and orange paint the island in intense bright hues. It's hard not to fall in love with Nami Island. Baekpungmilwon Garden is the most magnificent foliage garden, housing 300 maple trees. ?Wandering around, you may meet some of your favorite animal friends. All animals roam free on Nami Island. Photographers and little children especially adore the Naminarians ostriches and Korean chipmunks.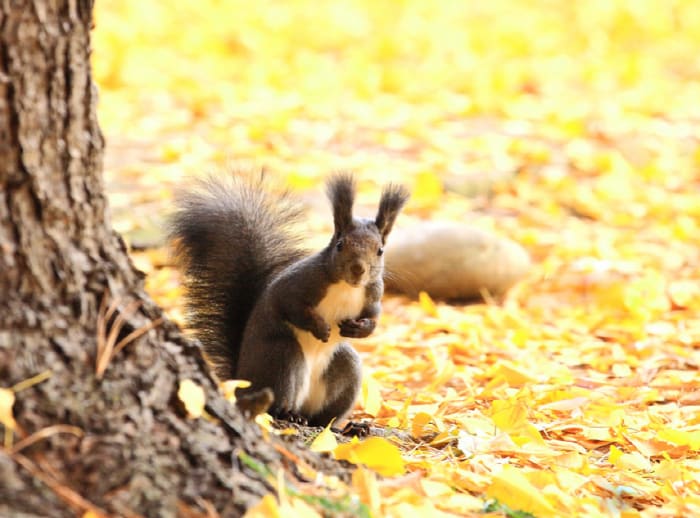 Photo Credit: Naver Blog
Looking for souvenirs? Why not create your own handicraft? The Nami Island Handicraft Studio provides workshops such as lamp working, ceramic making, and even metal crafting classes. ?These sessions accommodate children and groups. Most lessons require reservations in advance so remember to book before you head over to Nami Island.
Insider Tip: Chuseok, the Korean Harvest Festival, is typically around mid-September. While Nami Island is open throughout the year, reading up on?important things to know?will help you prepare better if you visit Seoul during Chuseok.
Nami Island Winter – Pristine snow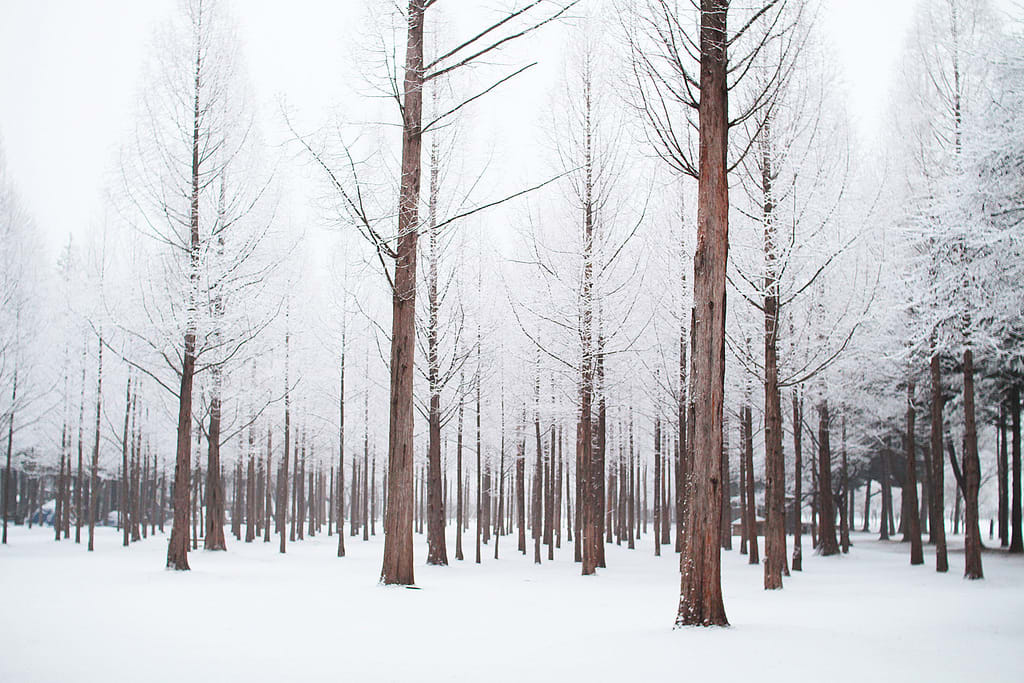 Average Temperature:?-4-5°C
Must See: During the winter, Nami Island is covered in pristine snow. In this winter wonderland, you will find surreal snow globe scenery and picturesque views. ?The most famous "Winter Sonata"?poster captures the couple on Metasequoia Lane in the winter time. The tall trees planted on two sides of this walking path become the perfect landing spots for the fluffy snow. Also popular, the?Gongsaengwon Garden entices tourists to visit due to its iconic statues of the Korean "Winter Sonata" stars?Bae Yong Joon and Choi Ji Woo. Like this statue, you and your loved one can embrace each other and the romantic wintery air.?For skiers and snowboarders, you can consider joining tours that include both Nami Island and the nearby?Elysian Gangchon Ski Resort.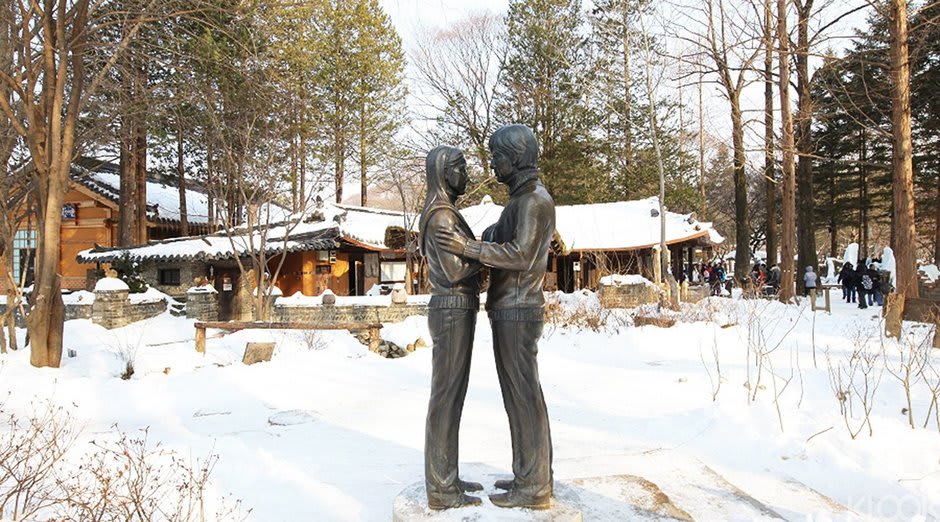 Nami Island thoughtfully cares for visitors in the winter time. Surrounding the island, campfires are placed to keep your hands and hearts warmed. You can also eat some cozy hot food. On the streets, vendors sell delicious steamed red bean buns, syrup-filled pancakes, and sausages. In terms of restaurants, you can pick from different types of cuisines, ranging from traditional Korean dishes in Nammoon Restaurant to Italian pastas in Di Matteo Pizzeria.
Insider Tip:?Be sure to dress for the harsh weather! The temperature hovers around 0°C. If you do not enjoy cold weather, you might reconsider visiting Nami Island another season.
Nami Island Spring – Cherry blossoms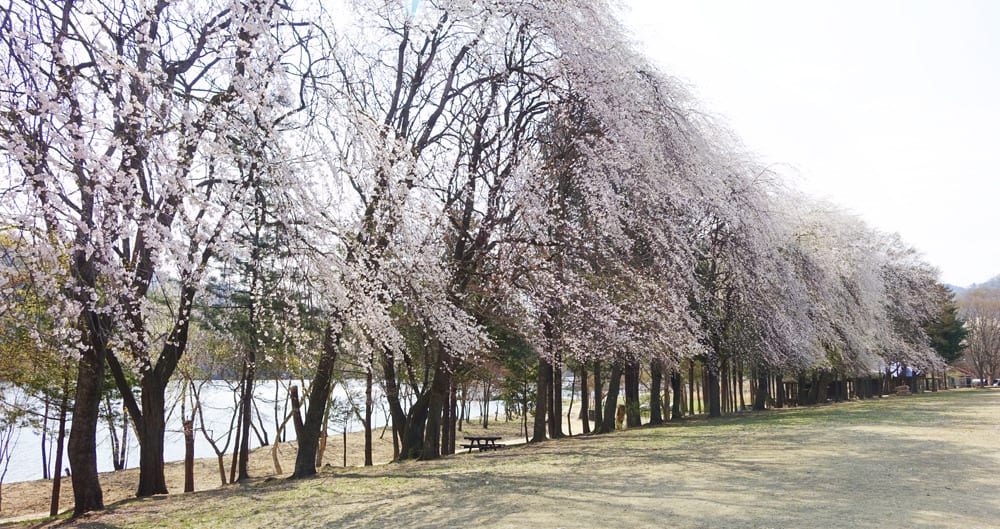 Photo Credit: Nami Island
Average Temperature: 4-11°C
Must See:??When the cherry blossoms flourish in South?Korea, Nami Island becomes a heaven for cherry blossom fanatics. In front of the Water Stages Swimming Pool, the?Cherry Tree Lane transforms into ravishing pink.?The cherry blossom season comes and goes very quickly. Each year, the flowers bloom typically sometime around March and April and last just a few weeks. To maximize your chances of catching the cherry blossoms, check out various bloom forecasts before your trip; Korea Tourism Organization publishes travel news to provide a detailed forecast for visitors. You can also view the cherry blossoms in other areas near Seoul. For theme park lovers, you can visit the?Seokchon Lake Cherry Blossom Festival next to Lotte World in Jamsil. For history lovers, you can find cherry blossoms in Changgyeonggung palace, a grand palace first built in the?mid-15th century.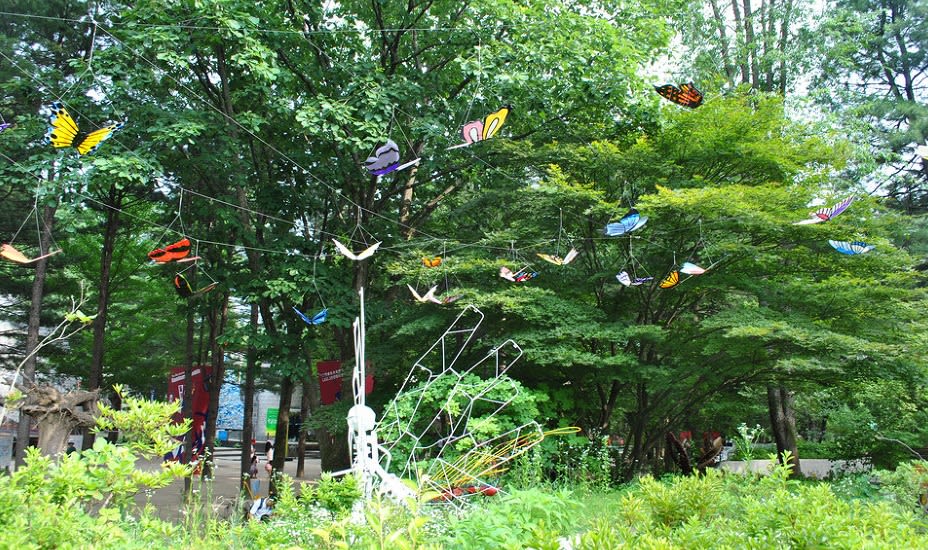 Photo Credit: Suntae Kim
Missed the cherry blossoms? You can still make it to the Hampyeong Butterfly Festival around April and May. The Hampyeong Butterfly Garden on Nami Island attracts a wide variety of butterfly species, making it one of the best places to celebrate this festival. Along with the Spring flower, this garden overflows with the fragrance of Spring.
Insider Tip: Enjoy a romantic picnic amongst the glorious cherry blossoms of Nami Island! Two of the best picnic locations on the island are the Namipingwon Garden and the White Birch Cove.
How to get there?
Admission fee to Nami Island is ?8,000 for foreigners. There are three main ways to reach Nami Island — subway, train, and shuttle bus.
Subway:?The closest station to Nami Island is?Gapyeong Station. ?To reach the station through the Seoul Metro System, get on the?Gyeongchun line, which starts at Sangbong and ends at Chuncheon Station. The metro system covers most urban areas in Seoul. You can pay for the subway ride using the T-Money Card or cash and it costs around ?2,000. Usually, the subway trip duration is just over one and a half hour.
Train:?A more comfortable method is to take the ITX ?Train. Board the train at Yongsan station and exit at Gapyeong Station. You can book a seat online for ?4,800. Compared to the subway, ITX train brings you to Gapyeong faster, only about 55 minutes.
Shuttle Bus:?The shuttle bus reaches Nami Island directly from Seoul's city center. Reserve a seat online and get on the bus?at Insa-dong or?Namdaemun Gate. The shuttle bus only comes once a day and the ride is about one and a half hours long. The shuttle bus costs ?15,000 for a round trip ticket.
Once you reach Gapyeong Station, you can choose to ride the ferry or the Zip Wire to enter ?Nami Island.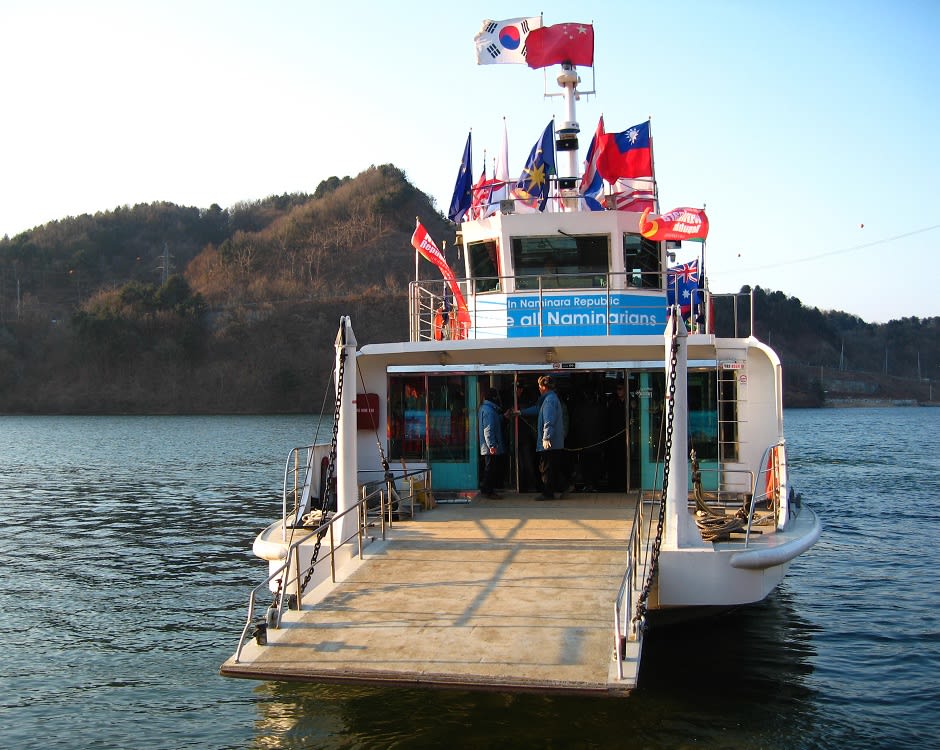 Ferry:?To take the ferry, get a taxi from Gapyeong Station to Namiseom parking lot, where you can board the ferry that comes every 30 minutes.?The short taxi ride costs about ?3,000 and the ferry service is complimentary with the admission fee. The ferry provides a scenic experience and is the most common transportation for Nami Island's visitors.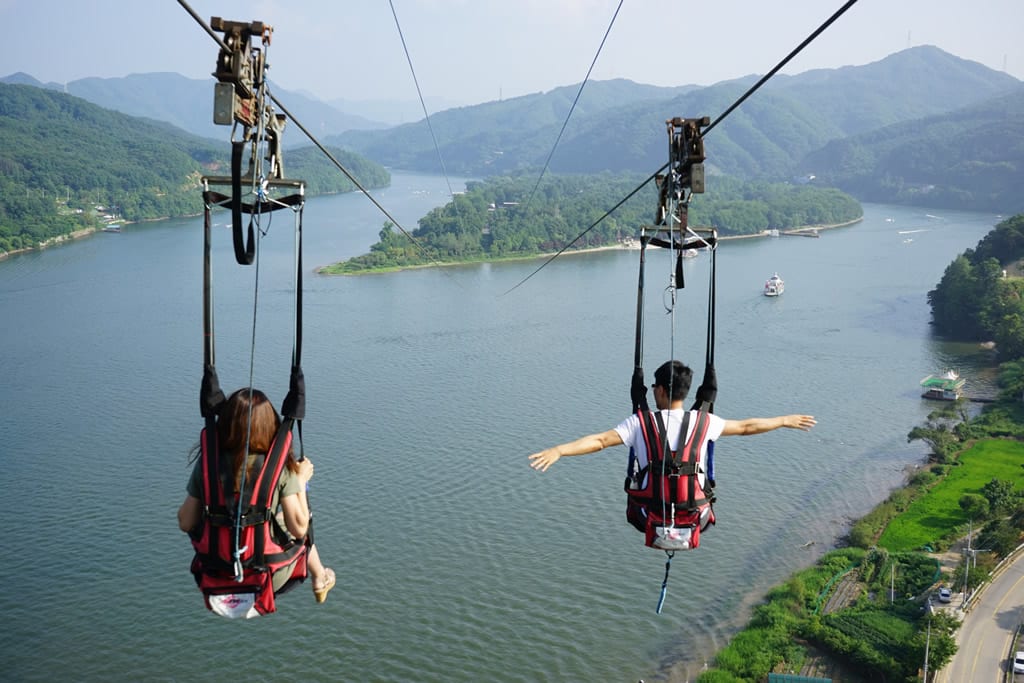 Photo Credit: Ziprider
Zip Wire: For adrenaline junkies,?you can ride the 3,083 foot Zip Wire to reach Nami Island. The Zip Wire begins at the Zip Wire Tower, which can be reached by a taxi or Bus 33-5 from Gapyeong Station. For ??38,000, this Zip Wire brings you to Nami Island in less than two minutes. This attraction fee additionally includes the admission and a return ferry ride back from Nami Island.
Another hassle free?option is to join a tour that arranges your transportation and expands your trip to include nearby destinations, like Petite France. What are you waiting for? Plan your trip to Seoul with?Klook, where you can find?travel inspiration and discounted deals offered any season of the year.