All Stars 2019: Switzerland Popular Things To Do
Switzerland may well be one of the world's most beautiful countries. With rolling hills, glaciers and castles to be explored, visitors to this country can be sure their eyes are in for a glorious treat.
You can't stop at one city when visiting Switzerland, especially when the train journeys offer some of the most breathtaking views on earth! While this can be an expensive holiday, booking a Swiss Travel Pass or Eurail Pass on Klook can save you significant costs travelling in and around the country!
All-Stars
These all-time favourite activities are popular with tourists to Switzerland! From day trips to Mount Titlis or Grindelwald and Interlaken, it's easy to explore beyond the city when you book with Klook!
1. Day Trip to Mount Titlis with Cable Car (from Zurich)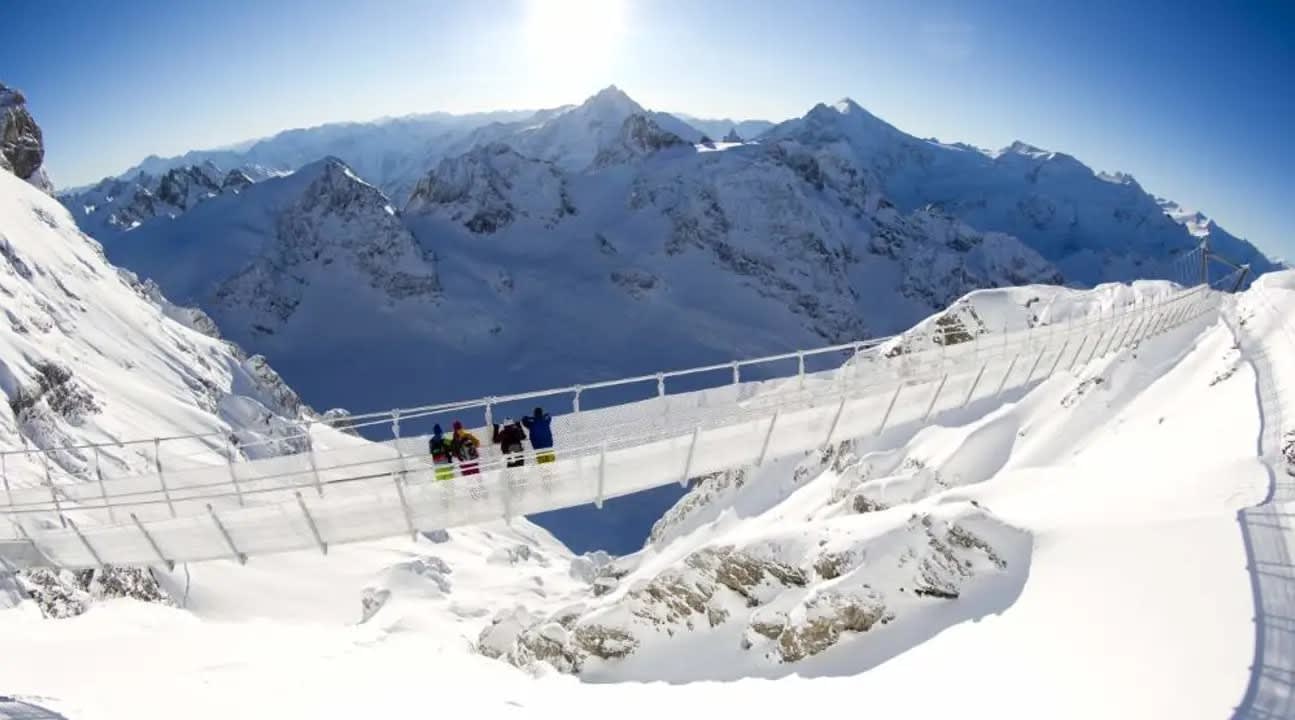 This guided day tour from Zurich includes round trip transportation from Sihlquai where you'll meet up with your friendly guide and board the bus to your first stop – Lucerne. From there, you'll get the chance to explore the Old Town before you continue to Engelberg from where you will board the cable cars that will take you to the tip of Mount Titlis.
There are several thrilling activities to try at the top of Mount Titlis, including crossing the Cliff Walk – the highest suspension bridge in all of Europe! You can also go snowtubing at Glacier Park or simply chill at the sun terrace and soak up the magnificent views of the Alps.
Change of plans? No worries! Enjoy free cancellation with 24 hours notice prior to the start of the activity – terms and conditions apply.
Klook a day tour to Mount Titlis!
2. Jungfraujoch Day Tour from Zurich
Jungfrujoch is famous for being a UNESCO World Heritage Site home to the world's highest train station at 3500 metres! You'll also find an Ice Palace, observation deck and other activities at Jungfrujoch that make it the perfect place for the whole family.
Klook offers a day tour with departure from Sihlquai that includes a short stopover in Interlaken and a ride aboard the cogwheel train in Grindelwald.
Klook your day trip to Jungfrujoch!
3. Mt Titlis Self Guided Adventure including Ice Flyer in Engelberg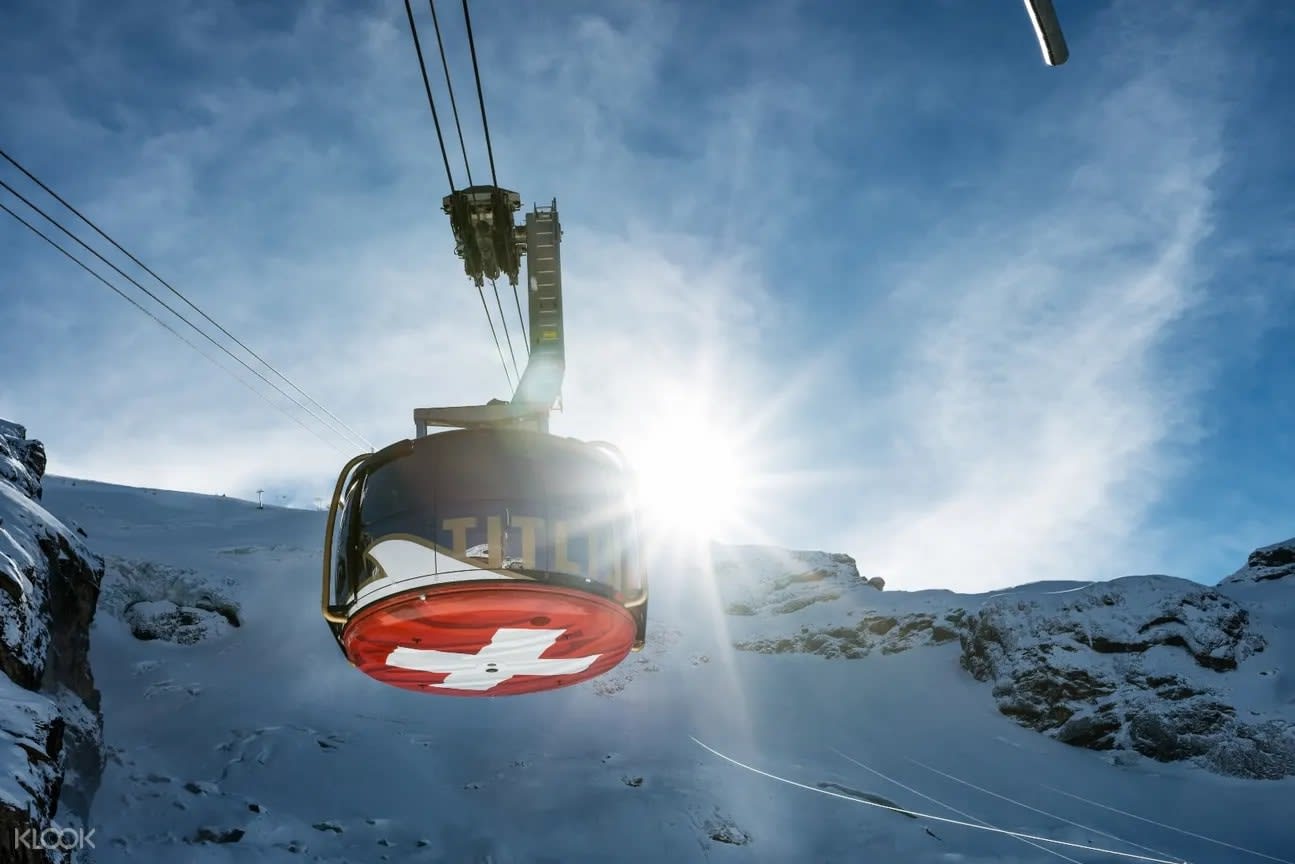 If you prefer a free and easy visit to Mount Titlis, Klook offers a self guided adventure package that includes a ticket for the cable car ride between Engelberg and Mount Titlis as well as a ticket for the Ice Flyer – an exhilarating chair lift ride!
Explore Mount Titlis free and easy with this Klook package
4. Half Day Trip to Mount Titlis with Cable Car from Lucerne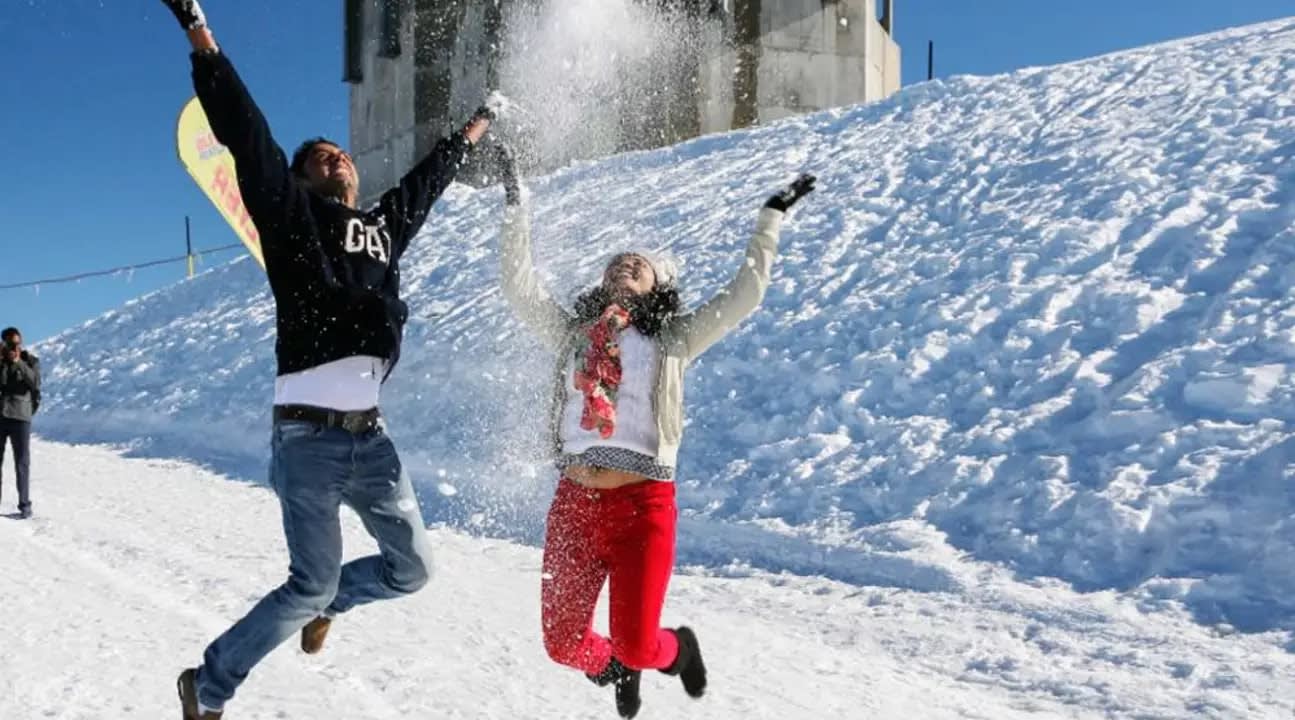 For visitors in Lucerne, Klook also offers a Mount Titlis package that includes round trip transport from Frankenstrasse Street located just by Lucerne train station! This afternoon tour will take you to Engelberg where you'll get to ride the rotating cable car to the top of Mount Titlis. There you'll get to participate in a range of activities from the Ice Flyer, Glacier Park, Ice Cave and Cliff Walk before you descend and head back to Lucerne train station.
Visit Mount Titlis from Lucerne!
5. Day Trip to Grindelwald and Interlaken from Zürich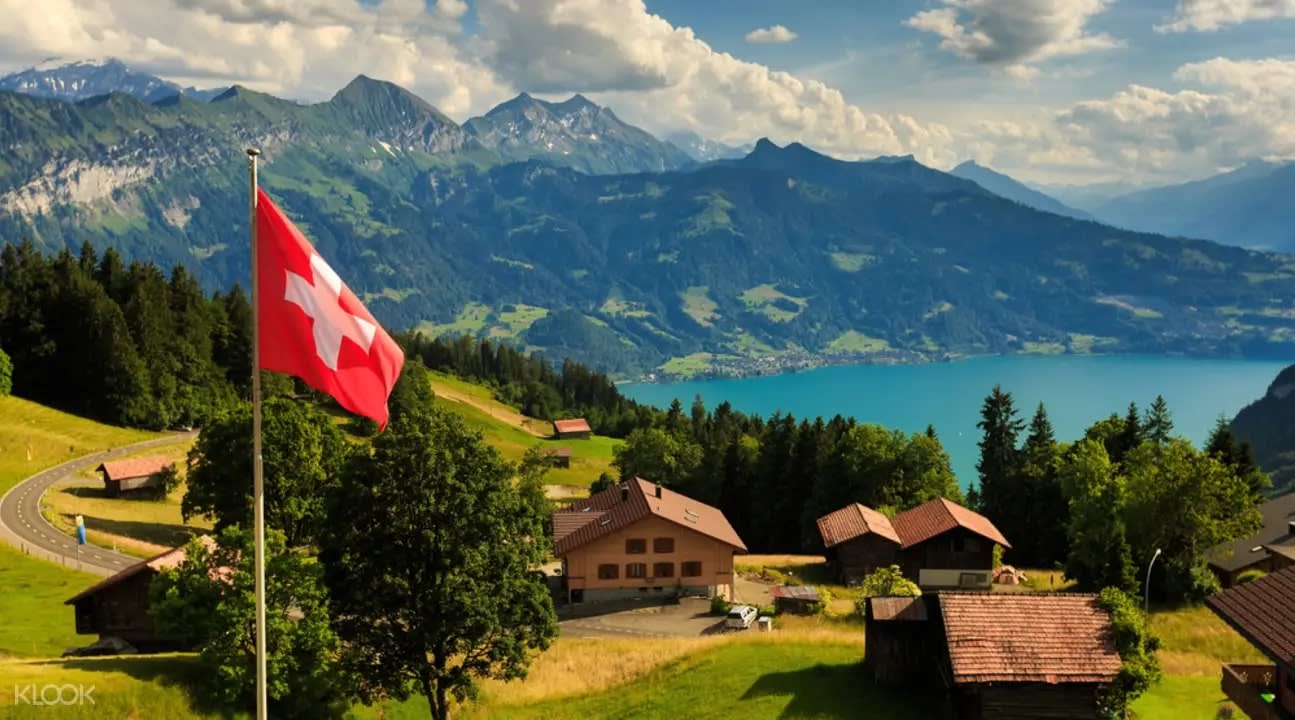 Grindelwald and Interlaken are two of Switzerland's most photogenic towns. From here, you can enjoy panoramic views of the Swiss alps, complete with idyllic houses and delicious regional produce. Plus we hear this region is also great for some luxury shopping including jewelry and watches!
Klook offers a free and easy day trip to both towns inclusive of roundtrip transport from Sihlquai in Zurich.
Klook your free and easy day tour to Grindelwald and Interlaken!

Super-Savers
These products pack a punch while helping you to save money! Getting around Switzerland can come with quite the hefty price tag, but these passes let you travel hassle-free at a lower cost!
6. Swiss Travel Pass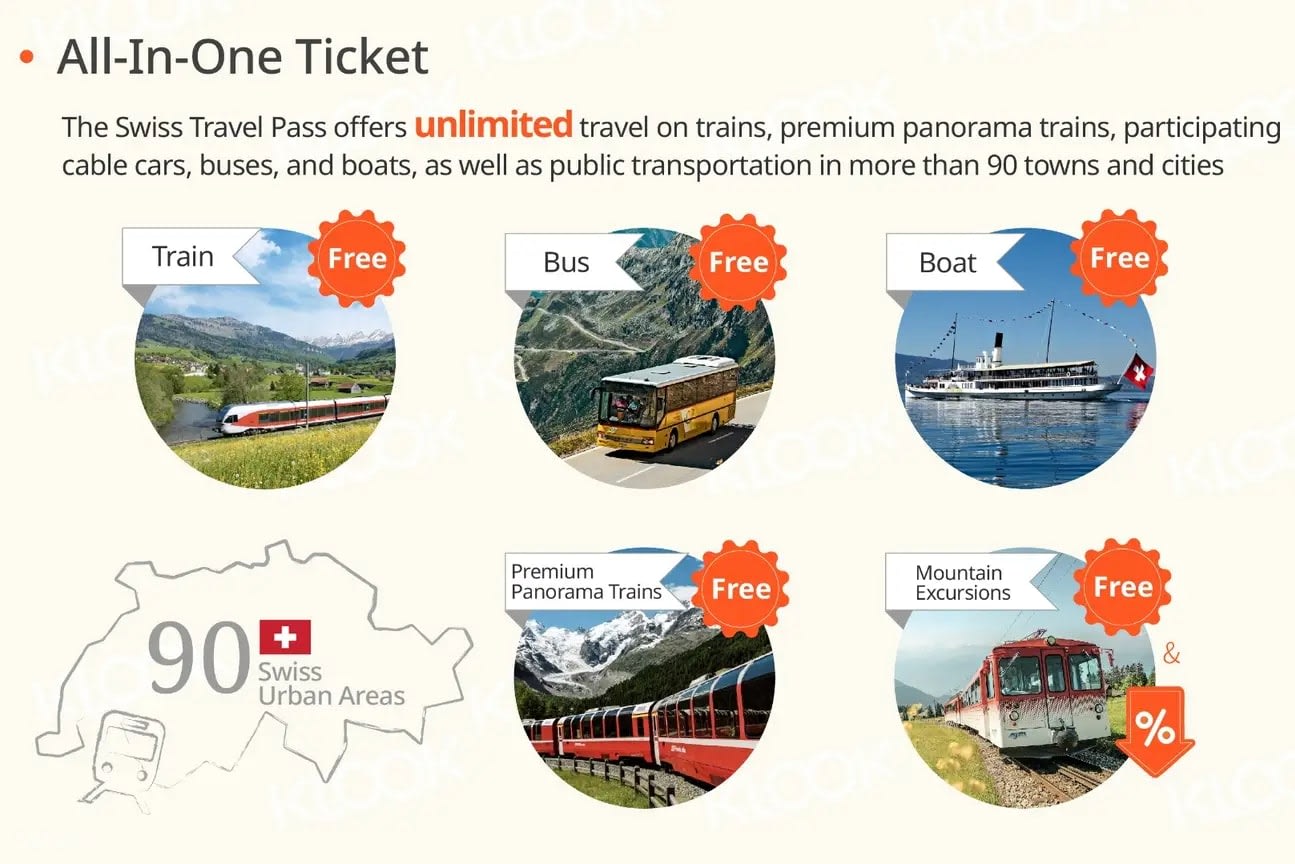 The Swiss Travel Pass is a powerful pass that gives the holder unlimited travel on trains, premium panorama trains, selected cable cars, buses, boats and even public transportation across more than 90 towns and cities in Switzerland.
This means the Swiss Travel Pass can also be used for trains covering scenic routes from Montreux to Lucerne or Zermatt (the Toblerone mountain!) to Chur. Do note that the premium panorama trains require advance seat reservation that you can do directly on Klook up to 3 months before your departure date.
Enjoy 5% Klook credit rebate when you purchase an e-ticket! Physical passes are also available and will be delivered to your listed address. Depending on your travel plans, travellers can also opt for either Consecutive or Flexible passes. Refer to the table below for the difference between the two.
Get your Swiss Travel Pass on Klook
7. Swiss Half Fare Card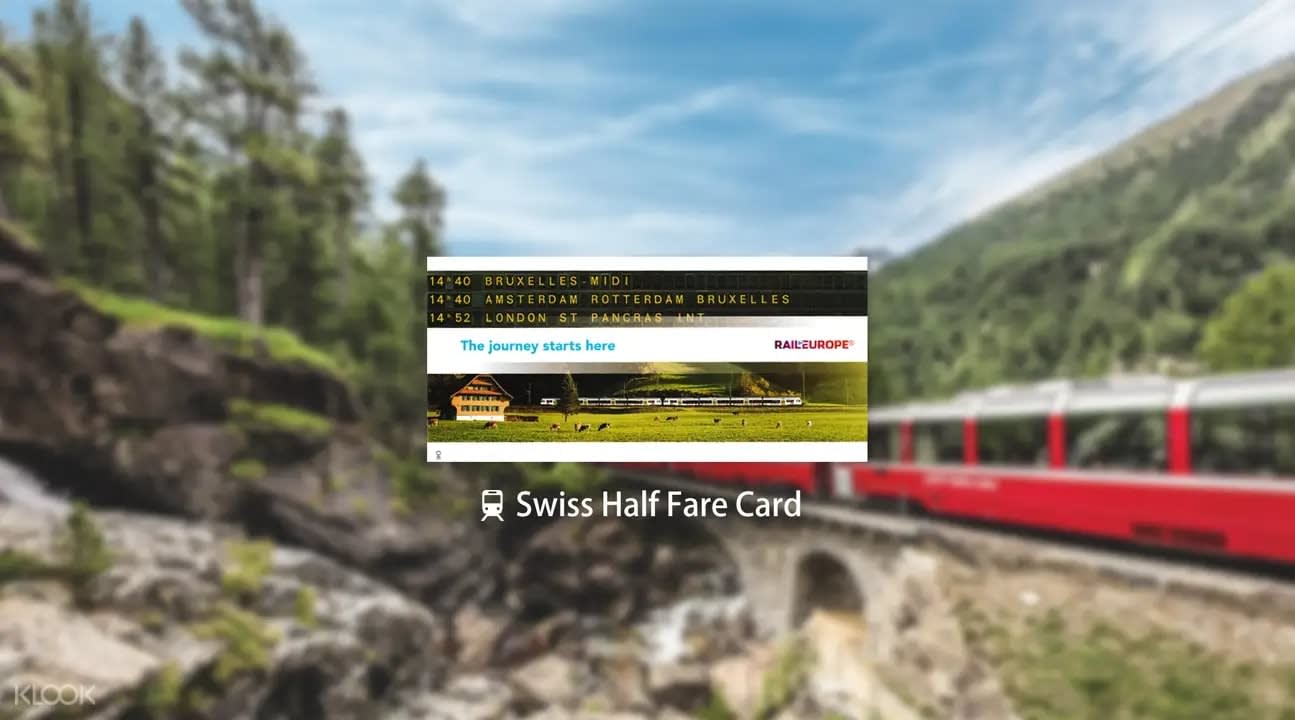 Alternatively you can choose to purchase a Swiss Half Fare Card that gives you 50% off on tickets for Switzerland's trains, buses, boats, premium panorama trains and some cable cars within one calendar month. This is a perfect option for those who may not be travelling enough to utilize the full potential of a Swiss Travel Pass.
To use the Swiss Half Fare Card, simply present your card and your passport at local stations to enjoy a 50% discount.
Find out more about the Swiss Half Fare Card on Klook!
Rising Stars
More and more travel savvy customers have included this product in their cart for their travels in Europe! Find out why below.
8. Eurail Global Pass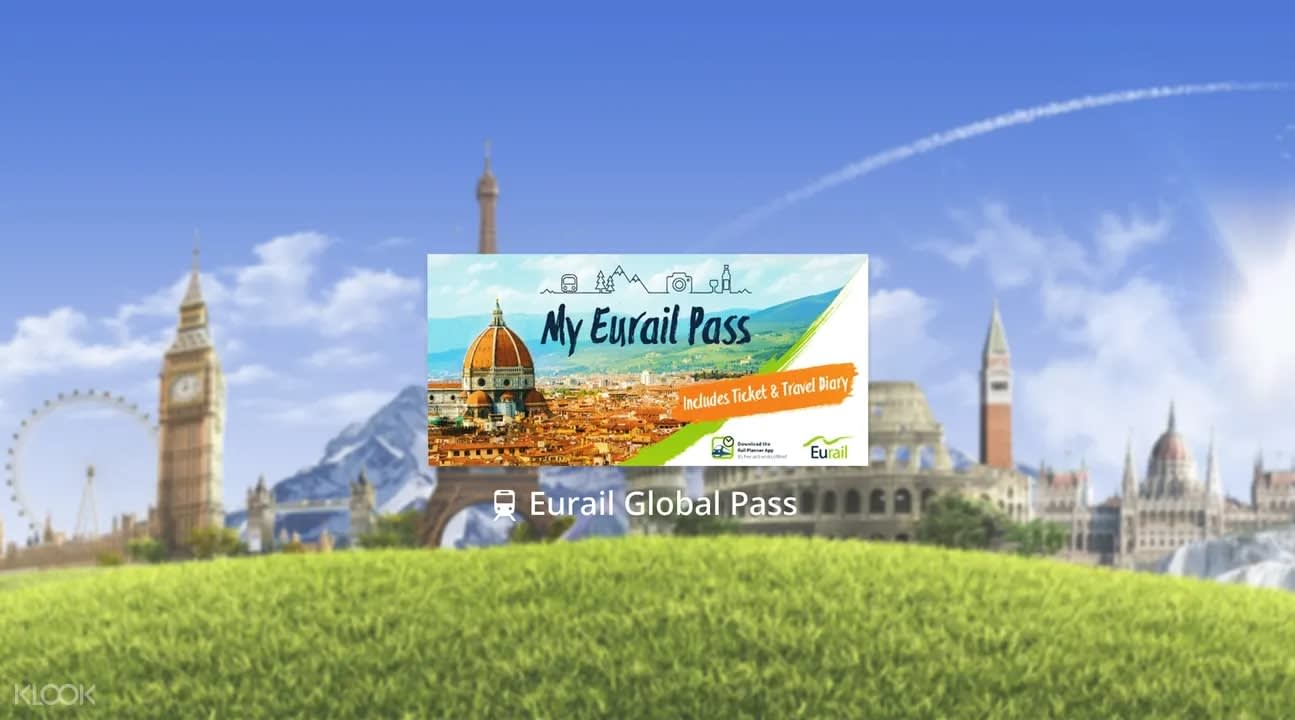 The Eurail Global Pass is the ultimate travel pass for anyone wanting to travel across the continent! The Eurail Global Pass offers unlimited rides across 31 countries which saves you the hassle of purchasing individual tickets for every journey!
The pass is delivered free to your listed address. All you need to do is activate your pass at an Eurail Aid Office or a railway official at a station of departure for use. Don't forget to bring along your passport for validation! Eurail authorities also require every traveller record their travels on the travel calendar provided before boarding a train.
Get your hands on the ultimate Europe rail pass on Klook!